About Tagine Zhor
Our Story
Tagine Zhor prides itself in authentic Moroccan cuisine. Long-standing owner Mostafa Benjelloun was born in Casablanca and has deep family roots in Fez, ``The Capital of Moroccan Cooking".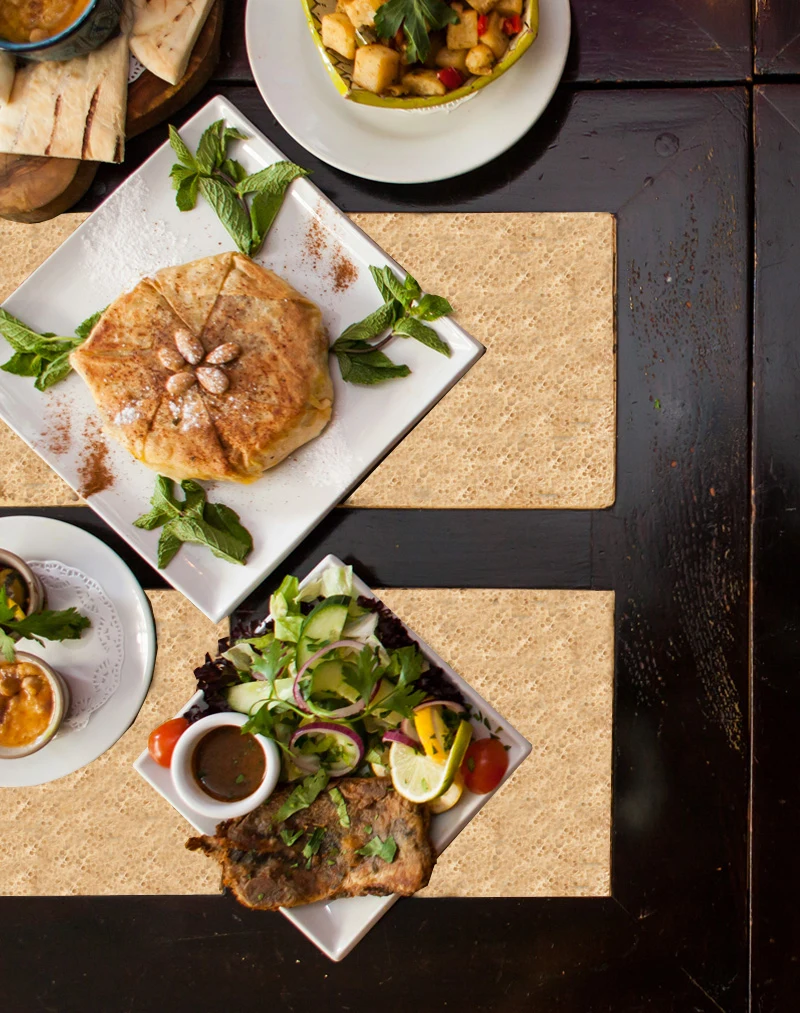 Latest Trip Advisor
Reviews
I loved everything! The food was amazing. There was also a cute small shop in the lower ground. We got one tagine with beef and one with chicken and they were delicious. The staff was brilliant and very kind. If I'll come back to Bath, I'll definitely come back here.
The best Moroccan food outside of Morocco. Fantastic authentic restaurant. We ordered lamb and duck tangines with couscous. Both dishes were full of flavor, delicious and freshly cooked. Very intimate atmosphere for the candlelight dinner for two.
Fabulous place to eat. Friendly staff, good service and food is beautiful. Harira soup is amazing, best soup I've tasted anywhere.
REVIEWS
Authentic
Moroccan Recipes
Tagine Zhor is entirely rooted in the traditions of Moroccan cooking and culture which is evident through its rich deep flavours and subtle blending of spices.
FOOD
A Small Selection of Authentic Moroccan
Favourites
Zhor Hot Mezze platters for 2 to share (v)
£35.00
An assortment of potato skins filled with zaalouk 'n' cheese or (V) Baba gannouj 'n' halloumi cheese, pumpkin kibbeh, cheesesamboussic, falafel, Goat cheese, black olives spinach and feta briwats, and flavoured bread, Served with jben and sharmoula harra.
Meaty Zhor Hot Mezze platters for 2 to share
£42.95
A great combination of Lamb kibbeh, kofta and chicken bastilla briwats, spiced jwaneh; prawns mshermal and koftam'kaoura
Our Famous Traditional Moroccan Mezze (v)(n)
For 1 £14.50 | For 2 £27.50
Simply rich with flavours and spices
Tagine lham Bel Barkook
£21.50
Lamb tagine with caramelised prunes, slow cooked in saffron, ginger, cinnamon, boiled eggs sprinkled with roasted almonds and sesame seeds.
Tagine Djej B'zetoun
£18.95
A small chicken cooked in preserved lemon comfit, Moroccan olives, and coriander sauce.
Vegetarian tagine (v)
£17.95
Seasonal vegetables, saffron ginger and coriander sauce served with dry fruits
Homemade minced meat balls cooked in tomato sauce with fresh herbs and aromatic spices topped with baked egg
Lamb Meshoui for two to share
£55.00
Slow cooked roasted lamb marinated in spices and herbs served with couscous or savoury herby, diced potatoes, dried fruits and vegetables.
Couscous - S'csou Dyal Mema (v)
£17.95
Excellent treat for Vegetarians and vegans. This wonderful dish includes seven original vegetables, served with Tunisian Herrissa, marinated raisins and homemade sauce on the side.
Skewers of lamb, chicken and merguez
Whole filleted sea bass marinated in saffron, ginger and garlic, baked and cooked in tomato & herby Moroccan style sauce with a hint of fresh chillies and vegetables. Served with rice or couscous.
Experience Morocco
In Bath
Tagine Zhor brings a seductive piece of Moroccan culture to the ancient Roman City of Bath. Located on a pretty pedestrian street only a stone's throw away from the iconic Roman Baths, Bath Abbey, Train and Bus Stations.
Tagine Zhor
Restaurant Menus
Reservations
Book a table
Please note that meals are served between 12pm to 3pm and 5:00pm to 10:30pm.
Coffees and baklava can be purchased between 10:00am and 12:00pm and 3:00pm to 5:00pm.
Our calendar does not allow you to book online for weekends. We usually have plenty of availability so please call 01225 839822 or 01225 466437 to reserve a table for Friday or Saturday evening.
Special Dates
On Christmas Eve we close at 4pm
We are closed on Christmas Day and Boxing Day
On New Year's Day we are open between 4pm and 9.30pm.
Please call to reserve a table for Valentines day, online booking is not possible.